Tribal Dance (Israel)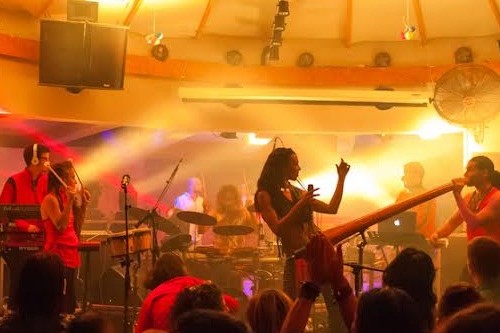 A unique sensual music experience bordering with mass hypnosis,  will be staged by a group who combine old tribal instruments, such as the didgeridoo and tom-tom drums, with modern electronic equipment. From that seemingly impossible combination emerges a specific underground project with an unbelievably strong effect on the audience, that is, according to many – irresistible.
Tribal Dance is a musical stage performance which was created by the Israeli composer, arranger and producer, not to mention singer and drummer – Amir Ya. The namesake of the ensemble which he founded, and which will be performing on the Street Musicians Festival on Friday in the Catholic courtyard, at the same time explains his musical style. He received direct inspiration long ago during a visit to an unnamed African village, where he witnessed a local tribal ceremony, centered around specific music and dancers who slowly fell into a trance. To this day, Amir Ya and Tribal Dance have performed several thousand times all around the world and had a large number of their studio recordings released on various sound carriers. As they are also coming to Serbia completely open-minded and accessible to all new ideas, who knows – maybe right here is where their next big project is born.
Tribal Dance performance in Novi Sad has enabled with the support of the Israel Embassy in Belgrade.