Phat Cat Swinger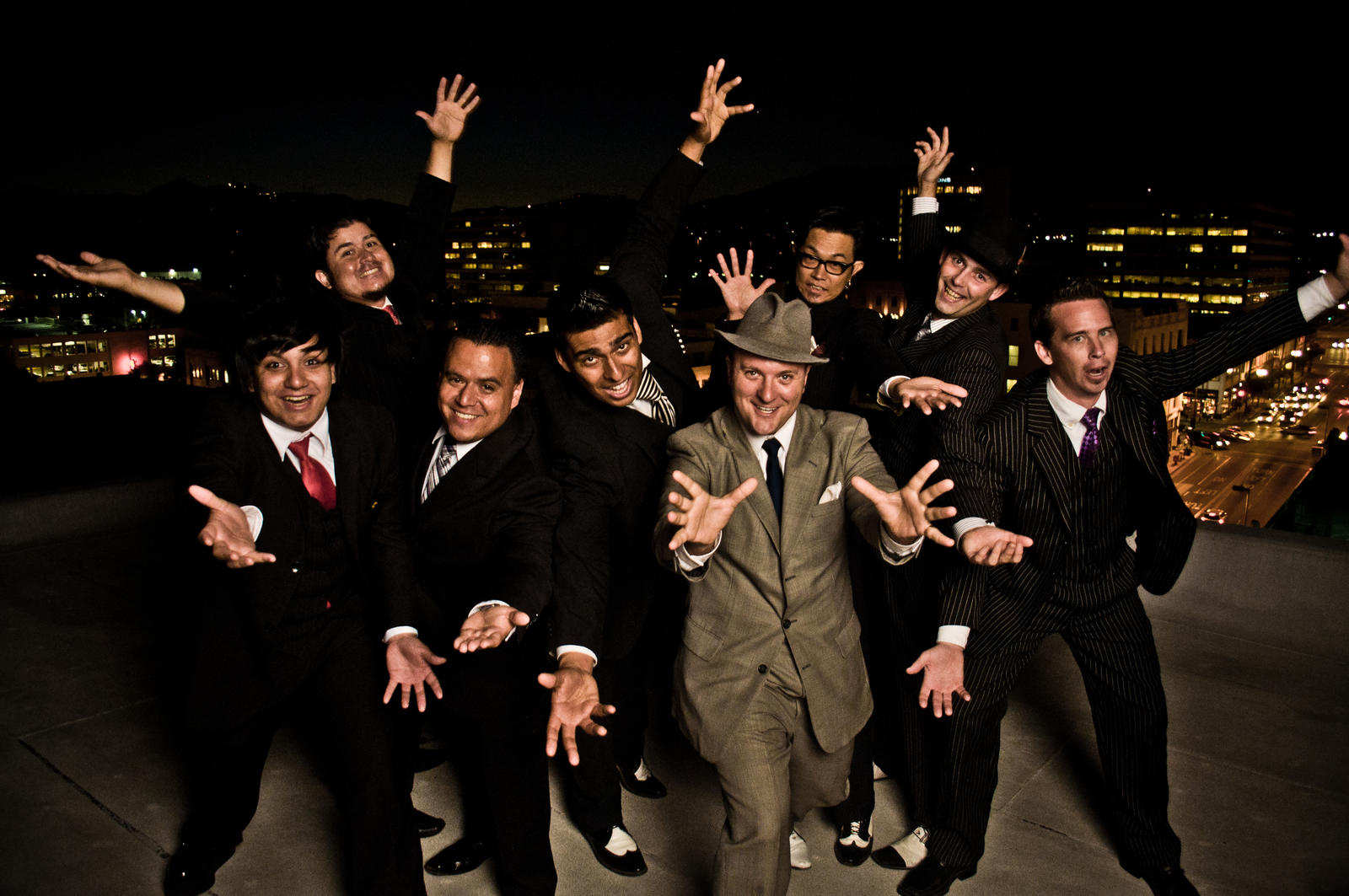 Certainly the biggest stars on this year's Street Musicians Festival are the members of the American ten-man swing band Phat Cat Swinger. Come September, for the first time, they will arrive to Serbia – from Apple Valley, a town in the American Sunny State of California – ready to gift the audience in Novi Sad an unforgettable night of dance.
West Coast swing, boogie-woogie, rockabilly and 50s rock'n'roll, are the chosen genres performed by these talented, experienced musicians, which you will certainly enjoy if you are into Big Bad Voodoo Daddy, Royal Crown Revue, Squirrel Nut Zippers and Cherry Poppin' Daddies. The legacy of the great Brian Setzer is easily recognized in the music of Phat Cat Swinger, as well as the melodies and rhythms that once upon a time decorated the albums of the greats Bobby Darin, Frank Sinatra and Cab Calloway.
Sax players Marko Palos and Will Pattinson founded the swing machine called Phat Cat Swinger "one hot California night" in August 2002. During the next thirteen years, they managed to record two studio albums, with a series of fantastic originals, as well as holding numerous successful live performances all across concert and dance halls in the United States and Europe.
Interestingly, we all saw the Phat Cat Swinger band eight years ago in the very attractive video for Christina Aguilera's hit song Candyman and also three years ago in the video for the song In The End of the successful Irish alter-rock band Snow Patrol. The Main Stage of this year's 15th Street Musicians Festival, in the centre of Novi Sad, will host the American masters of swing, Phat Cat Swinger, on Saturday 5th September.
Alt, tenor and baritone saxophones are first in line, closely followed by the singer, all the while joined by the solos from the trumpet, trombone, keyboards, guitar, double bass and drums. The set list of songs that Phat Cat Swinger does on concerts, as we found out, is known to be very colorful – somewhere in the range from Sinatra to The Black Keys.
Phat Cat Swinger, masters of great dance times, is brought to you by the Street Musicians Festival with help from the United States Of America Embassy in Belgrade (http://serbia.usembassy.gov/, https://www.facebook.com/USEmbassySerbia & https://twitter.com/USEmbassySerbia).
Phatcatswinger.com